Have you been tasked with putting together content for your community website only to find yourself at a dead end? Writing content on behalf of your community can be a daunting task. Even skilled writers can find it challenging to come up with enough content about their community to fill an entire "About Us" page. To add further stress, your board or web developer may be bugging you to provide that content ASAP. We have put together a guide to help you create an outline so you can knock out that "About Us" page content in no time.
Information to Include
The "About" page for your association should be an informative piece of content outlining what makes your HOA or COA unique. This shouldn't be a massive essay on everything that exists in your community, though. Instead, it should be a brief outline that sums up the key features of your community.
Ask yourself what you would like to know about your community if you were an outsider looking in. Consider yourself a prospective buyer looking to purchase within your HOA or COA. What information would you be interested in knowing? What would be important to you? Jot down these ideas in a bulleted list for reference when you start writing.
Some Ideas to Start With
If the above exercise didn't get the juices flowing then consider some of the ideas we have put together in the list below. These are some of the key features that should show up on your association's "About Us" page.
What year was your community founded?
How many homes or condominiums are there?
Where geographically is your association located?
Is there public transit available?
What sort of amenities are there? (pool, tennis courts, golf, etc)
Are you adjacent to any tourist attractions? Natural areas?
How is your HOA/COA structured?
How many board members are there?
When are your association's meetings and how often?
What are the annual dues for your association?
What sort of annual events does your community hold?
Information about the City your HOA/COA is in
Again this is just a list of some ideas that may be helpful to get your writing started. Not all of this information may be appropriate to share on your about page (think dues).
Examples of Associations with Good "About Us" Page Copy
Beau Chêne
The Beau Chêne Homeowner's assocation is a great example of "About Us" page copy. It is short and to the point and cleary outlines the key features of the community. You can view it yourself here or see the screenshot below.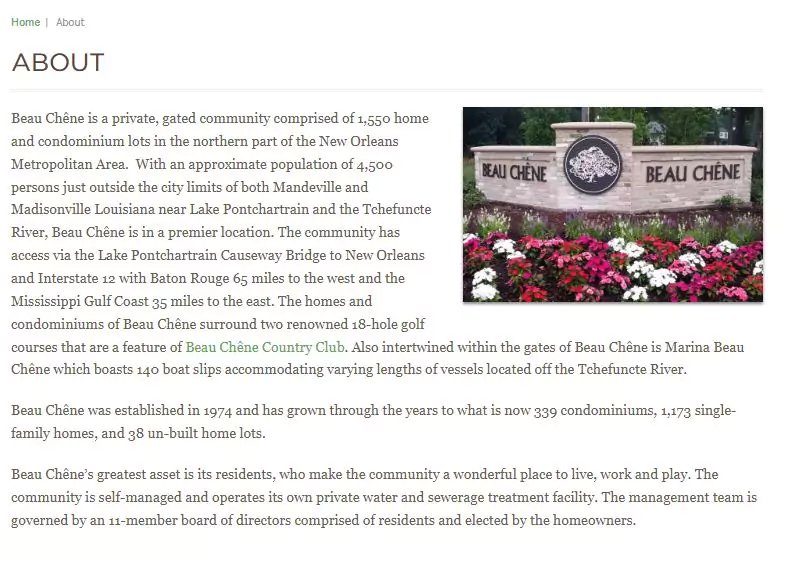 Orinda Woods
The "About Us" page copy for the Orinda Woods HOA is simple but to the point. There are no frills to their website but it gets the message across. Their page could certainly use some photos to break up the copy but the verbiage itself is solid. They also include a blurb about the city they are located in at the bottom of the page.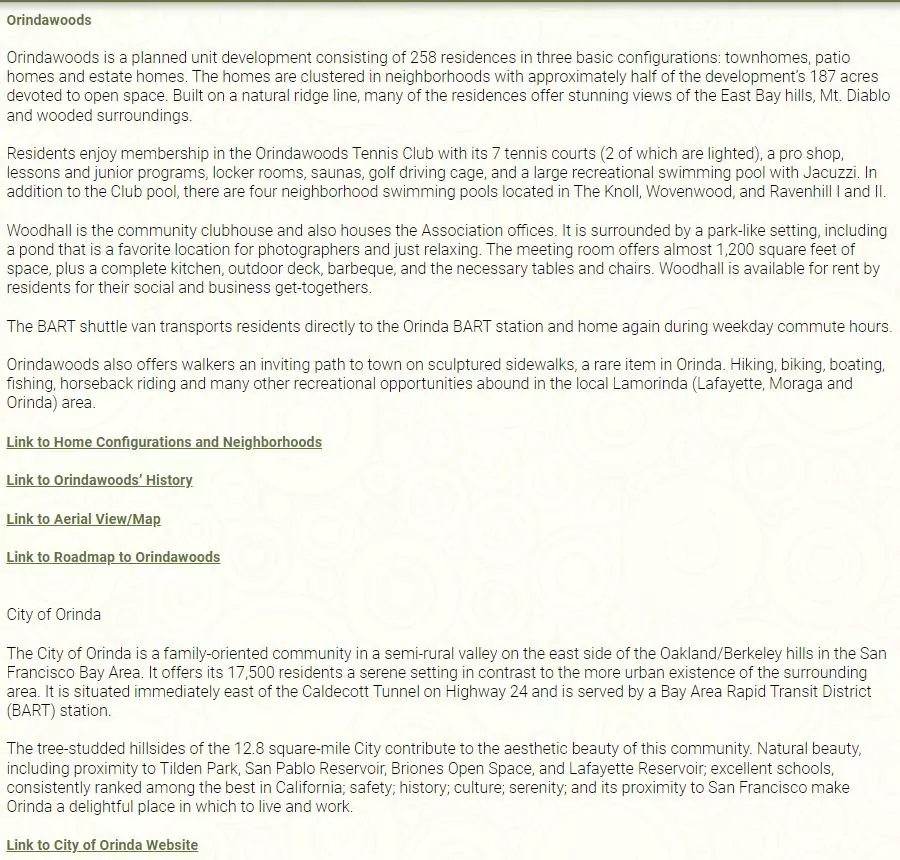 Covered Bridge Canyon
Covered Bridge Canyon has a great About Us page which includes information about the physical and architectural characteristics of the community. They also detail lot sizes and underground utility features. This is a great example of thinking outside the box on what makes a community unique.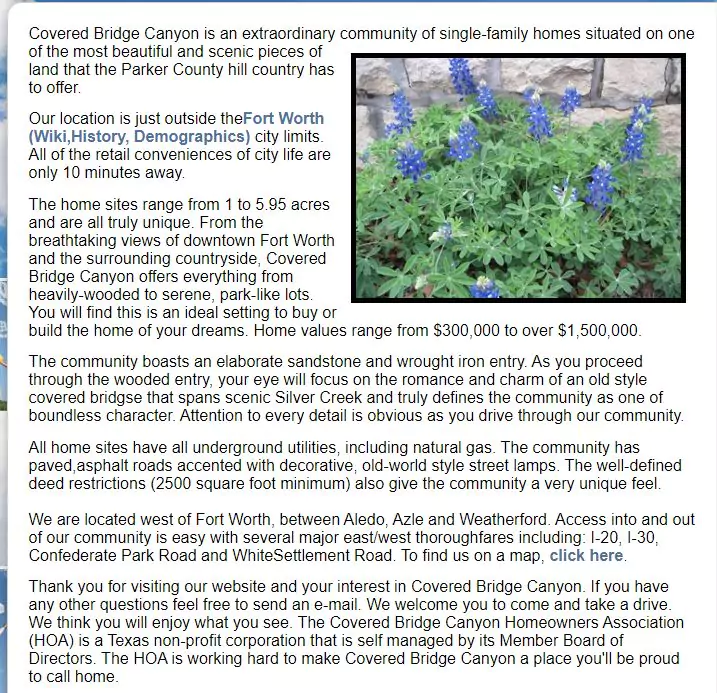 Hopefully, this has provided some great ideas on getting your "About Us" page content started.